Baking Recipe Free Printable will help you to keep all your recipes in one place, to find any in less time next time you want to make it.
When you love to make your own bread at home, you might be writing down any new recipe to make on any piece of paper, and if the recipe is good, you might glue it on a notebook or you might pin it on a board, if you don't save the recipe that same day, it might get into a pile of papers and it might be hard to find it again.
I got tired of writing new recipes on a piece of paper, to taste them, and if they are good, then I glue the paper on a notebook.
Today my book looks messy and more like a scrapbook, it's not organized and it's hard to find the recipe which many times takes more time to find it than making the dough.
Baking Recipe Free Printable
To make it easier for me to have a place (notebook) where I can write the recipe, and add notes about how it came up, or if I didn't like then I won't keep it, I came to the idea to make a Baking Recipe printable, so I can keep it on a binder , and every time I find more recipes, I can just make more copies of it to write down more recipes.
I guess, I'm not alone on this, so I wanted to share the Baking Recipe Free Printable with you all, you can download and make as many copies of it as you need, just keep it for your personal use, and if you publish it on your blog or Social Media, please give credits to our blog.
Benefits Of Keeping Your Baking Recipes In A Notebook
There are many benefits of keeping all your bread recipes in a notebook, we listed 4 of them below.
Keep All Your Baking Recipes In One Place
Using a Baking Recipe Printable will help you to write down any new recipe you want to make in one place, it will be easier for you to find the recipe you want to make anytime, and it will be also easy for any member of your family who also loves to make bread at home.
Add Your Own Notes To Your Bread Recipes
When you have a notebook for your bread recipes, you can add any notes about the recipe, any changes on the ingredients or on the instructions, baking time, oven temperature, or even some ideas to make double the recipe or how to freeze the bread.
Keep All Baking Recipes Well Organized
You can use different highlight color markers, to specify what type of recipe it is, sweet bread, artisan bread, cake or cookies.
When you use a printable to write your recipes, you can use a binder , which will help you to keep well organized all the recipes and it will take a few seconds to add the new recipe in the category where it goes.
Make More Copies Of The Baking Recipe Free Printable As You Need Them
In times when we all need to pay attention to only use the paper we need, you always can print out just a few copies, then as you keep finding new recipes, you can print out more, no need to waste any paper just to have a fancy good-looking notebook for your recipes.
Easy To Make Copies
Any time a friend or a family member ask you for one recipe, it will be easy for you to make a copy and hand it to them.
How To Use The Baking Recipe Free Printable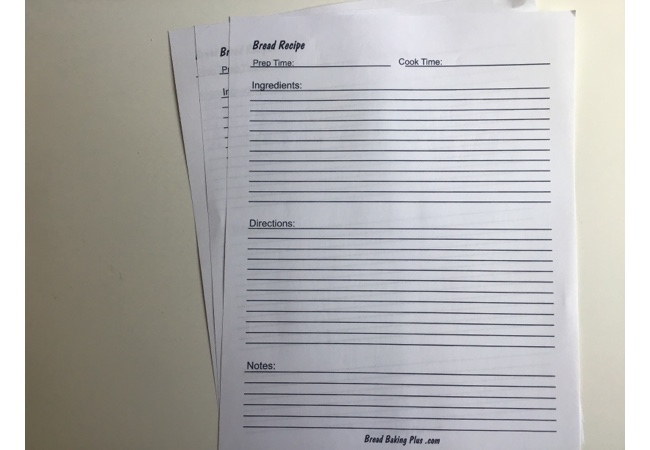 I like to make a few copies, and make the holes with a puncher and add the blank recipes to a binder, as I find more recipes, or anytime I come back home after a baking course, I write down the recipes adding some notes.
I like to have some categories in the binder to help me find any recipe I want to make.
Artisan Breads
Christmas Breads
Easter Breads
Mexican Breads
Yeast Breads
When I print out the recipe printable, I leave the back of the paper blank to have some extra space to glue any picture or to write some notes.
Baking Recipe Free Printable – Closing Thoughts
We hope you like the idea to have all your bread recipes in a binder and you download and print it out.
As a home baker, I know how easy it is to lose a good recipe and never find it ever again.
You don't need to trust on how good you are to remember all the recipes, it's better to have one place to write them down or to add them and write some notes.
As a baker, you will soon have a good collection of good recipes to make, getting them well organized will help you find them and have more time to enjoy making them.
If you have another tip to get all you're baking recipes well organized, share it on a comment, we all learn from each other!
Happy Baking!

Thanks so much for sharing our blog on your Social Media!